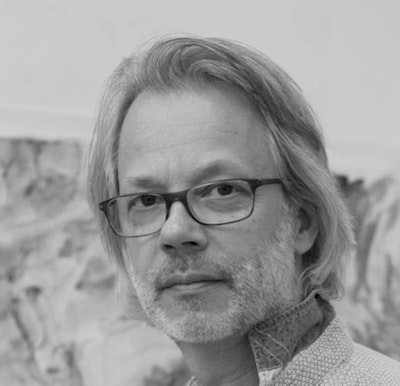 Martin Dammann
Dammann's work constantly oscillates between historic and contemporary subjects and perspectives. Throughout his work, Dammann investigates how life leaves traces which then transcend into history and images.
Born in 1965 in Friedrichshafen/Germany,
Dammann began his studies at the Kunstakademie Bremen in 1989. He came to Berlin in 1992 and graduated in 1996 as a 'Meisterschüler' ('master-class student') of Prof. Karl Horst Hödicke at the Hochschule der Künste/Berlin. This was during the formative period of the Berlin art scene which was to become famous a few years later. At this time, personal computers became capable of creating and processing basic videos, and Dammann developed a method of reconstructing the movements of film cameras by rearranging stills – like a deck of cards – on screen. This led to a number of works such as "Sedimentation/Film1" (1996) or "TeleBall" (1997). In 1998 Dammann was awarded a DAAD scholarship for London to conduct research on the microscopic structure of photos. Here Dammann came into contact with the Archive of Modern Conflict (AMC), which focusses on vernacular war photography. Shortly before returning to Berlin, Dammann began to work for the AMC, purchasing soldiers' photo albums around the globe. This became a major source of inspiration for the years to come. Yet these photos, taken by untrained photographers, could hardly be dealt with by means of Dammann's video practice. So Dammann returned to his starting point as an artist: drawing and watercolours. Watercolours in particular proved to be well-suited to reflection on the ambiguities of vernacular photography. Remnants of Dammann's video practice are still evident, as, for example, in the several interviews with militaria collectors in the work "Collecting Militaria gives you something to talk about" (2005). At this time, figurative painting – after decades of rejection – was enjoying a remarkable comeback. While Dammann welcomed this trend, he remained distanced from the hype, especially the "Leipziger Schule". From the start, a guiding aim was to escape the clichés associated with watercolours. Dammann focuses upon hidden, subliminal traces and lines of emotion in fields such as World War 1 and 2, Germany during fascism and its impact upon post-war and contemporary Germany. His work often addresses aspects of violence, identity, the relation between sexes and guilt. Dammann's works may refer to an anterior reality, yet the works themselves become part of the world, thereby enabling a continual dialogue between that reality and its traces in photography, drawing and painting.
In 2016 Dammann widened his field of attention to engage with questions of colonialism. Here he focused onto the mutual influences between colonialized and colonializing societies in the 19th and 20th century. In 2018 Dammann published the photobook "Soldier Studies, Cross-Dressing in the Wehrmacht" which received worldwide attention, and established Dammann as a expert on war photography in academic circles. In recent works Dammann had focused more than previously on contemporary and personal domains such as family and relationships, and how public discourse extends into these spheres.
Alongside numerous gallery exhibitions, Martin Dammann has been the subject of a number of institutional solo shows. In 2007 "Repromancer" at the Kunstverein Arnsberg; in 2009 "Von der Nennseite her" at the Kunstverein Konstanz, and "Fremde Freunde", Kunsthalle Recklinghausen (with comprehensive catalogue); 2014 "Mit dem Rücken zur Wand", Märkisches Museum, Witten and 2015 "Zum Resultat beruhigter Tumult" at the Kunsthalle Nürnberg. In 2018 Dammann published the photo book "Soldier Studies, Cross-dressing in the Wehrmacht" (Hatje Cantz Verlag).
Dammann has participated in numerous group shows, amongst others the Videofestival in Marl, Germany, the Hybrid Workspace of the Documenta X, (by invitation of Luxus Cont), Kassel/ Germany in the PS1, New York/USA, the ZKM in Karlsruhe/Germany, the Museum Folkwang, Essen/Germany, the Württembergischer Kunstverein/Stuttgart/Germany, the Centre Pompidou, Paris/France, the MACBA, Barcelona/Spain, and the Lentos Museum in Linz/Austria.
In 2009 he participated in "Fear Society", at the Venice Biennale/Italy.
In 2021 he was shortlisted for the "Prix du Dessin" of the Guerlain Foundation.
Martin Dammann's work is featured in many private and public collections in Europe, USA and Canada, including, amongst others, the Sammlung des Deutschen Bundestags, the Sammlung des Bundes, the Märkische Museum in Witten, the Centre Pompidou, the Guerlain collection, the Burger collection, the Sigg collection and the Musee de Dole.